This guide explains how to set up a Yealink phone in order to automatically download all extension settings to the phone, this only needs to be done once and all future updates will be downloaded automatically.
You will first need to create a provisioning file in the SiP Cloud dashboard, in order to do that follow the below guide:
https://sipalto.zendesk.com/hc/en-gb/articles/360028264932-Creating-a-provisioning-file

Step 1
Ensure you are on the same LAN as the phone, then enter the phone's IP address into your Browser in order to log in to the phones GUI. Enter the username and password:
Username: admin
Password: admin

Step 2
Once logged in, go to Settings > Auto Provision.
In the Server URL input box, enter the unique Autoprovisioning URL for your phone, you should have already generated this info in the dashboard (see info at the top of this page with a link to that guide).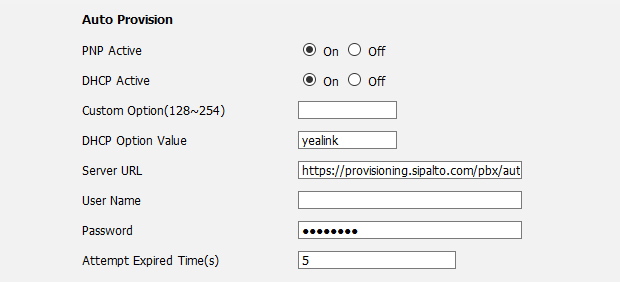 Then, scroll down to the bottom of the page and click on the Confirm button.

Step 3

Now go to Security > Trusted Certificates

Set the certificate values as follows:
Only Accept Trusted Certificates: Disabled
Common Name Validation: Disabled
CA Certificates: All Certificates





Then click on the Confirm button.

This will force the phone to reboot and download its configuration. Once the phone has come back online (after a few minutes), it will be configured and ready to use.